Britain is in love with a little brown bean called coffee.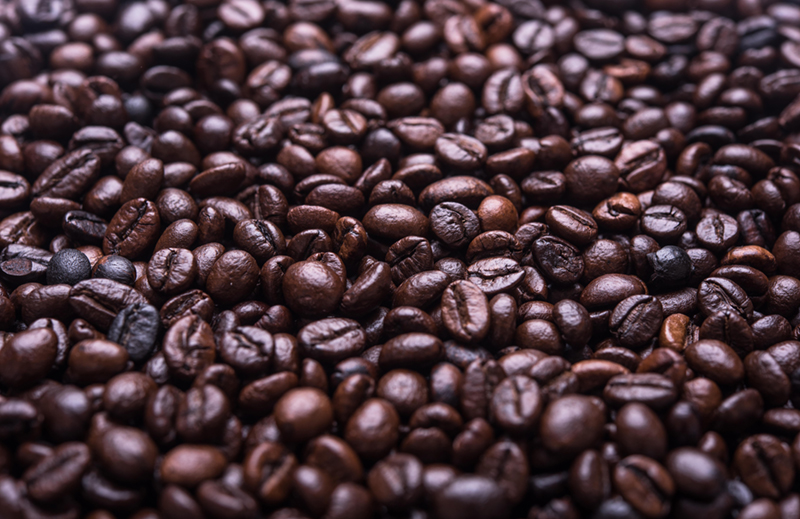 It's an affair that dates back more than 350 years to the edge of a churchyard in St Michael's Alley, off Cornhill, in east central London.
It was there, in 1652, that Pasqua Rosee (servant to a businessman who imported goods from Turkey) opened the capital's first coffeehouse.
In truth, it was more wooden coffee shack, than house, but it had the enviable advertising distinction of being situated below the spire of St Michael's Church, visible all over London.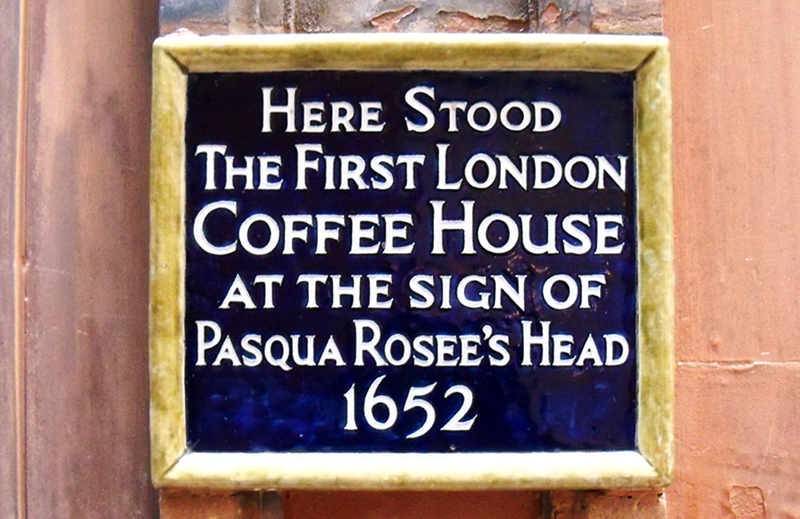 Rosee's enterprise was an immediate success. Despite coffee of the time being a bitter, grainy drink, with comparisons made to oil and mud, its effect, rather than its taste, won people over.
Swapping the then liquid staple of diluted beer (water was too contaminated to drink) for coffee gave rise to sobriety and clarity of thought, stimulation and inspiration.
Coffeehouses flourished, and it's reported that in just over 10 years there were more than 80 establishments in the capital; 3000 by the turn of the century.
They were egalitarian spaces of conversation and conviviality where, for an entry fee of 1 penny, and with unlimited refills, men (women – unless employed to serve the coffee – dare not visit lest they be considered prostitutes) could meet new people and discuss new ideas, work, play, and hear the latest news.
Indeed, coffeehouses were sometimes referred to as 'penny universities' for the enlightenment to be had within.
Dr Matthew Green, London historian and co-founder of Unreal City Audio, which produces immersive coffeehouse tours, says that coffeehouses played a pivotal social and cultural role in 17th and 18th Century London.
"At the simplest level they were meeting places for individuals to exchange ideas," Dr Green says, but more than that, "coffeehouses were places that nurtured and articulated public opinion, and were a lightning rod for news."
But with popularity came opposition.
In 1674 the Women's Petition Against Coffee was launched. Wives resented their husbands spending too much time in coffeehouses, claiming this "new-fangled, abominable, heathenish liquor called coffee" made their men impotent and idle.
The following year King Charles II issued a proclamation for the suppression of coffeehouses, fearing a dangerous spread of ideas that threatened the monarchy.
But in fact, the opposite was true, Dr Green says.
"Charles hated the idea of people from different class backgrounds coming together, but actually, coffeehouses contributed to political stability, because they provided a place for people to grumble to each other." Better they discuss their dissatisfactions than take to the streets in riot.
Charles' proclamation was recalled after just 11 days amid mass public outcry. But it should be noted that he was somewhat accurate when he claimed that in coffeehouses "false, malicious and scandalous reports are devised and spread".
Jonathan's coffeehouse, which opened on Exchange Alley (now known as Change Alley) in 1680, was a place where stocks and shares were brokered and traded. It was also home to 'stock jobbers', people who would spread false news in order to deflate prices, and then kindly offer to buy the worthless stock at a good price.
It is testament to the role of coffeehouses in another sector – commerce – that the men who plied their trades at Jonathan's went on to form the London Stock Exchange.
Likewise, Lloyd's coffeehouse, opened in 1668 in Tower Street (before moving to Lombard Street in 1691), was where importers discussed voyages with cartographers and ship captains, and where underwriting was secured for trade vessels to make their journeys.
Lloyd's coffeehouse went on to become the Lloyd's of London insurance company.
It was common for the coffeehouses of the time to be associated with particular professions and interests.
Garraway's (established c 1669), on Change Alley, was the eBay of its day, where auctioneering took off.
Will's coffeehouse (1660), on the corner of Russell Street and Bow Street, was the home of literature, and its patrons included the poet John Dryden and diarist Samuel Pepys. Later, literary allegiance switched to the nearby Button's (1712), which was patronised by artist and writer William Hogarth, and is where essayists Joseph Addison and Richard Steele founded The Spectator magazine.
The Grecian (c 1666), on Devereux Court off The Strand, was the informal meeting place for the Royal Society and included Isaac Newton, Robert Hooke and Edmond Halley (of Halley's Comet fame) among its regulars.
But by the mid-to-late 18th Century, coffeehouse culture began to change; the everyman inclusivity was replaced with a trend towards private membership for discerning gentlemen only.
Today, we are living in a period which could be considered the third coffee revolution.
The UK coffee shop market is enjoying a recession-defying growth spurt. Around 600 new outlets opened in 2011, and currently there are about 16,000 businesses around the country dedicated to selling coffee.
Following the 2nd generation corporate chain-led charge of the late-1980s and '90s, we're now seeing a flourishing of – yes, more chain stores, but also – independent artisanal coffee shops with unique character and a lively, sociable atmosphere. (Independents make up about 1/3 of total coffee outlets in the UK.)
This, Dr Green says, harks back to the first generation London coffeehouses. He cites The Espresso Room in Bloomsbury (with its long communal tables) and The Idler Academy in Notting Hill (which hosts philosophical lectures) as examples.
"This is something to get excited about in a world of cloned high streets," he says.
But where the new breed differs from the originators is taste.
Today, Dr Green says, we're "enslaved to an epicurean imperative", but in the 17th and 18th Centuries, "no one drank coffee for the taste".
He says: "Today coffee is something of an art form. It's fashionable, cool and hip, in the same way that tea is quaint.
"No one gets excited about going out for tea, but people get passionate about going out for a flat white in Soho."