A company in London does a roaring trade in arms, legs, torsos and various other body parts.
Set back from the street in Walthamstow, a newly-hip suburb of London, stands a 4500-square-metre warehouse. The red brick building was constructed in the early 1900s and originally housed the London General Omnibus Company. The company's 1910 B-type model, believed to be the first mass-produced bus in the world, was a fixture of the London transport system for years and was also requisitioned for use during World War One. Some of the double-deckers were even transformed into mobile pigeon lofts to house the birds used for communication on the front.
Later the warehouse was used as a chocolate factory, before a shoe company moved in. It is now home to proportion>london, a manufacturer of display mannequins and bust forms; more than 15,000 fibreglass and papier-mâché figures pass out through the doors every year.
Peter Ferstendik had inherited the shoe company from his father, but found it increasingly difficult to compete against cheap Asian imports. He decided to try his hand at the mannequin trade and bought an existing business in 2000. Siegel & Stockman had been founded in Paris in 1867, and began trading in London in the 1920s. By the time Ferstendik acquired the company, it had separated from its French parent and was operating with 16 employees from a site in central London.
Peter moved employees and warehouse operations the 10 kilometres to Walthamstow, and the ex-Siegel & Stockman workers retrained the shoe makers in the art of mannequins. Creative director Tanya Reynolds, who was part of a management buyout of the company in August when Ferstendik retired, states that proportion "probably has the biggest library of body shapes in the world". She estimates there are at least 100 designs, plus "we're sculpting new shapes all the time. We're bespoke. It's very much the norm that clients want their own shapes modelled".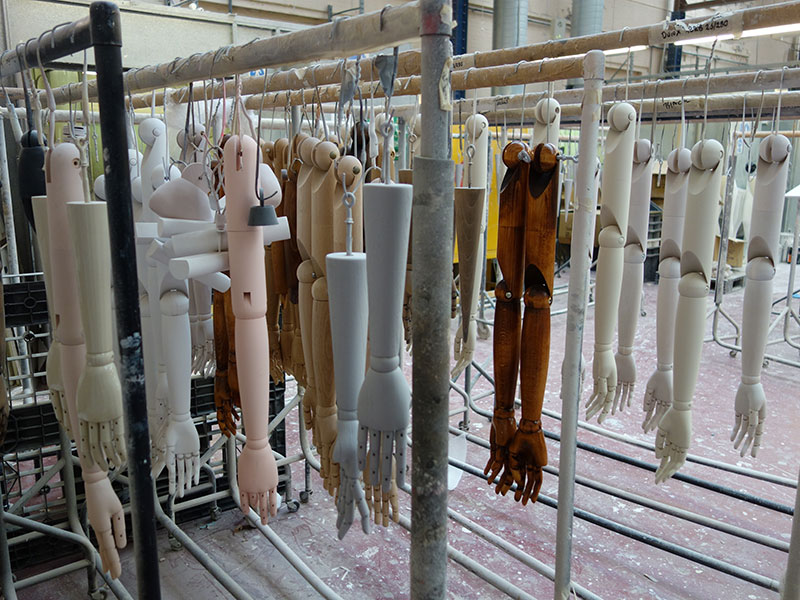 The company makes specific mannequins for fashion designers such as Paul Smith and Vivienne Westwood, and has recently made, for London's Victoria and Albert Museum, some very small-waisted forms for its pre-Victorian fashions, and for a personal customer, mannequins to display a collection of garments from the Napoleonic court, including Josephine's dresses.
Other clients include the Harry Potter Experience studio tour, for which they made models to exhibit original costumes from the film, and various fashion stores, including some in Australia. Not long ago, the retailer Marks & Spencer requested a model with wooden hands and joined-up fingers. proportion's usual wood manufacturers couldn't fulfil the request, so they created the hands in-house, in acrylic, and make-up artist George Downes is painting all 800 of them in a wood-look finish.
In the same workspace as George is Sam Hoye, development and museum services manager, a specialist in wax models who has an affinity for heads. She says, "I get to know people's heads without their hair. Nicole Kidman without hair confuses people. They don't know if she's male or female."
Tanya explains that their collection of hundreds of wax head moulds includes many famous faces from previous commissions, which are sometimes re-used for non-celebrity purposes.
"When they're out of context, with different colourings, people can't pick who they are," she says, pointing to a head of David Essex, an English singer and actor, which she says has also been used on a model of a vicar.
On the table next to Sam is a pair of full-body likenesses of the designer Rick Owens. One is on all fours, the other on its back, knees held to its chest. The former is destined to become a glass-top table, the latter a seat. The detail on these wax figures is incredibly precise, from the eerily-real face and colour of the glass eyes (dark purple outer iris with a chocolate brown centre) down to the real hairs applied to its legs.
Wax models are mainly commissioned by museums and private collectors, as they are labour-intensive, and therefore expensive to produce, and require delicate handling. But close-up, wax gives the most authentic rendition of the human form.
"When you see a wax figure that's done well, it's quite unnerving," Reynolds says, although after 30 years in the mannequin trade, she's completely unfazed. She moved into the field from a position in fashion buying because the window dressers "looked like they had more fun".
As well as full bodies (rigid models and ones with articulated wooden arms) and busts, proportion>london makes heads and jewellery neck forms. Business is split at 60 per cent bust forms to 30 per cent mannequins (or full bodies) and 10 per cent heads and neck forms. Female forms account for 80 per cent of orders, and 80 per cent of the company's products are exported.
In addition to workers involved in the making of the fibreglass, papier-mâché and wax models, proportion also employs specialist tailors and wood stainers, plus freelance artists and select external suppliers for make-up ("done in oil paint") and wigs.
The process of making a fibreglass mannequin is similar to that of producing a chocolate egg. First a fibreglass mould is made around a fibreglass master figure that has been turned out of a plaster mould transposed from a figure sculpted in clay over a metal skeleton. Live models are used for reference in the original sculpt, with hands, and sometimes toes, cast directly from the model.
Fibreglass is placed into the two-part mould and the halves fixed together; it is allowed to "cure" for about an hour, then the figure is popped out. From there, it passes through at least four different stages of sanding and finishing, and two or three coats of paint, before being wrapped and dispatched. For the mannequins to be as realistic as they are, everything has to be done by hand – a machine could not do the work as accurately.
Before fibreglass mannequin-making was introduced in the 1950s, virtually all figures were made in papier-mâché. The production process is the same now as in Victorian times; the only thing that's changed are the ingredients, of which proportion's are 97 per cent eco-friendly.
The process starts with torn paper strips dipped in adhesive paste and placed into a mould. After it has set for 20 minutes the piece is removed from the mould and plaster applied to the inner surface for added strength. After a papier-mâché form has been finished with a light sanding, it is either left raw or covered in fabric for a tailored look, with fabric fixed on one edge with staples, and the other side hand-stitched.
The company also has many requests for vintage forms, and use coffee and tea to give them the aged look. One of proportion's signature lines, and one which brings together most of the skills of its craftspeople, is the 'Harlequin', which is in vogue at the moment with clients including Topshop, Jigsaw and McQueen. It's a bit of a hybrid, with fibreglass legs, an upholstered papier-mâché body and wooden arms. "It's like a mannequin but with a tailored look and a level of poseability," says Reynolds. "You can introduce a little bit of wit and humour."
She is full of praise for proportion's staff. "They're good people, eager people, and are very skilled." Not to mention loyal. "It's such a specialised industry, our people tend to stay a long time with us." Case in point: around 10 of Peter's former shoemakers and 20 ex-Siegel & Stockman workers are still on staff.
A new chapter in the long and varied histories of both the company and the building it inhabits is about to be added. In April 2015 proportion>london will move to a new space around five kilometres away. And in a sign of the gentrification of Walthamstow, the warehouse will be demolished to make way for flats.